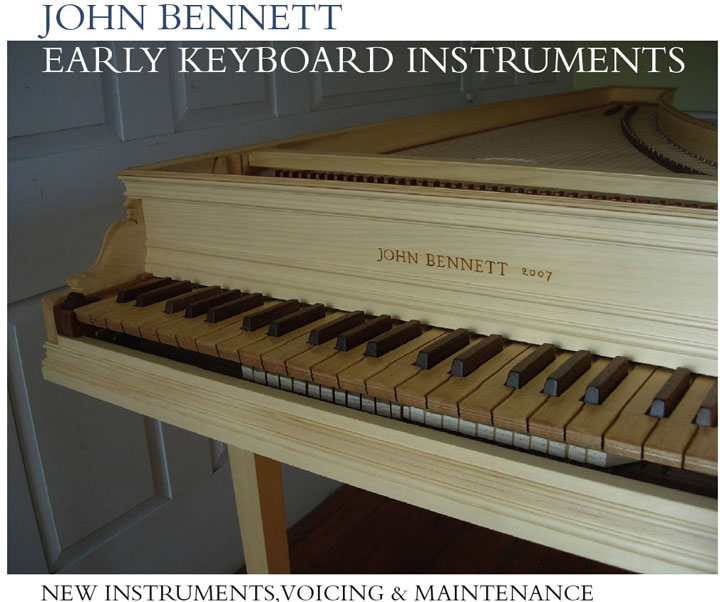 John and Bonnie Bennett have been building keyboard instruments together for over fifteen years. John has devoted most of his career to the study of historical keyboard instruments and the building of instruments that allow for the expressive performance of the early music repertory. He apprenticed with the harpsichord builder William Hyman from 1973 until Hyman's death in 1975, after which John spent eleven years working with David Way as the foreman of Zuckerman Harpsichords in Stonington, Connecticut. He was primarily responsible for new instrument design and tonal finishing. Since that time he has operated his own shop, pursuing his interests in small and chamber organs as well as continuing his work in harpsichord voicing and repair.
With over thirty years of experience, John has provided service for numerous individuals, universities and churches throughout the United States. He is available for tuning and concert preparation as well as on-site service calls throughout Southern New England and is prepared to offer continuing maintenance programs for individuals and institutions so that their instruments can receive the periodic attention they deserve.
It was while working a Zuckerman Harpsichords that Bonnie met John. A life long decorative artist with careers in theatre, textile and landscape design, she collaborates with John on the case designs. Bonnie does the keyboard and case finishing, all the decorative painting and cut fretwork.
Together they bring a unique approach to instrument building and design.
Sample Projects
While we have built multiple copies of several of our designs, most have been custom designs to fit the particular needs of the client. We are ready to modify an existing design or to create something entirely new if your needs so require. Click on the thumbnail photos to the left to see examples of our designs.
---
"My sincerest thanks also to John Bennett, who has helped me out on many occasions with his intimate and sophisticated knowledge of voicing"
Edward Kottick,
The Harpsichord Owner's Guide.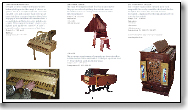 To see our brochure in PDF form, click here.

Contact us at: bennettworks@verizon.net
Tel: 401-377-4333